<![if !vml]>

<![endif]>
" Where colors and textures merge into a symphony of flavors"
The absolute ultimate for any garden party.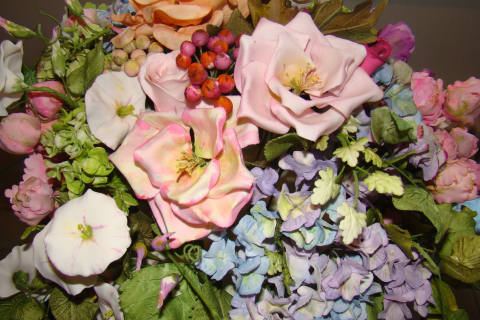 A collection of hand painted sugar flowers in a garden basket cake
Garden cakes are lovely. They are baskets of flowers, topiaries, or even the sweetest pot of violets… only they are made with cake and wonderful sugar flowers. Baskets have handles made from sugar and filled with beautiful hand painted flowers.
These lovely cakes can be made in any size from the tiniest basket serving 6 to a magnificent basket serving 150. Each has its own beauty and uniqueness brought out by the choice of colors and sugar flowers…
Wildflowers garden cakes are created using the very same attention to detail and fine ingredients as my wedding cakes and are available in a wide variety of flavors and fillings.
Prices for Garden cakes start at $15.00 per serving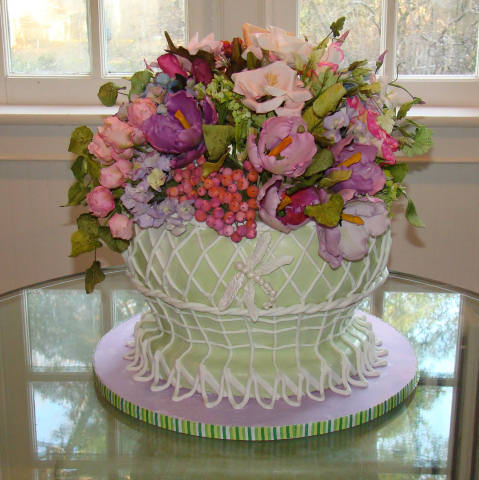 This gorgeous French wire basket in pale sage green and white was created for a television feature for celebrity party planner David Tutera to be broadcasted on the Discovery Channel. This gorgeous garden cake is brimming with sugar hydrangeas, tulips, berries, roses, leaves and peonies.
Baskets are wonderful in that they offer different visual vistas at every angle. Click on the thumbnail images below to see how every angle of the cake holds something new and different. (A new window will open.)
This basket was created in celebration of the 89th birthday of a truly magnificent woman. The party was held in a garden tucked away in midtown Manhattan. This garden enclave was fabulous beyond imagination and it was the perfect environment for a summer celebration. Of course, the woven fondant basket was filled with sugar flowers, foliage, berries and fruits!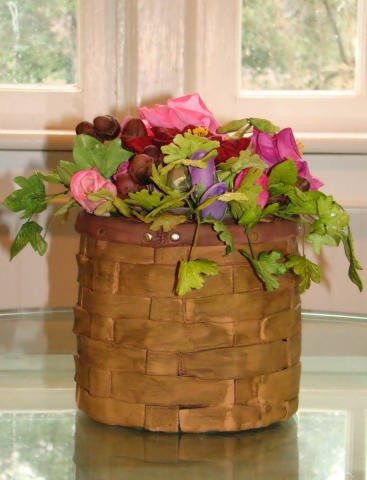 This is a petite woven garden basket filled with sugar roses, acorns and assorted fall leaves representative of the unique botanical beauty embraced by the fall season. This cake measures 6" in diameter, but has wonderful proportions, color and presence making it a perfect choice for smaller gatherings or as a centerpiece for a table.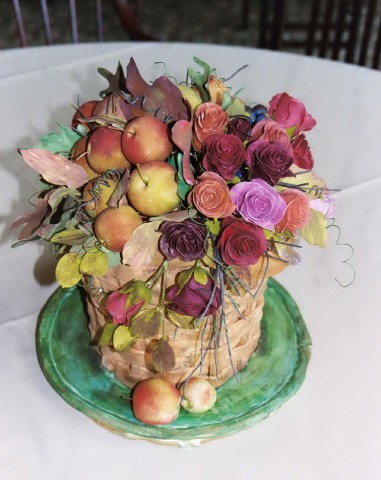 A gorgeous basket of sugar apples, fall foliage, and autumn roses created for a feature to be broadcasted on the Food Network series "The Sugar Rush".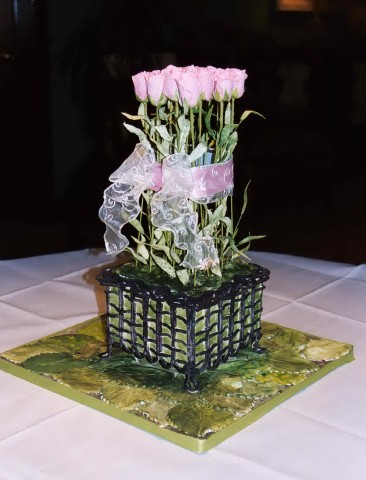 An oh so chic French wire basket with a collection of sugar roses. This was created for a special segment for The Food Network.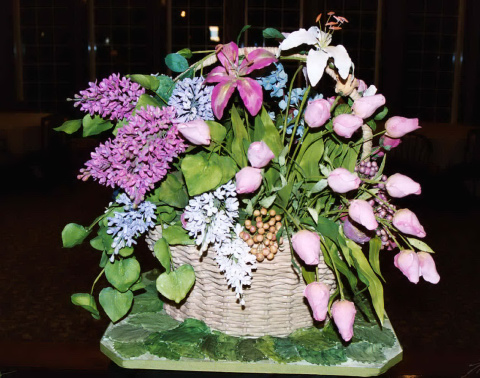 This magnificent woven rattan basket is filled with hand painted sugar lilacs, hydrangeas, roses, lilies, rannunculus, leaves, and berries. The creation of this basket was executed on film...during the taping of a special segment on the art of sugar flowers by The Food Network. To be broadcasted in their upcoming fall/winter season.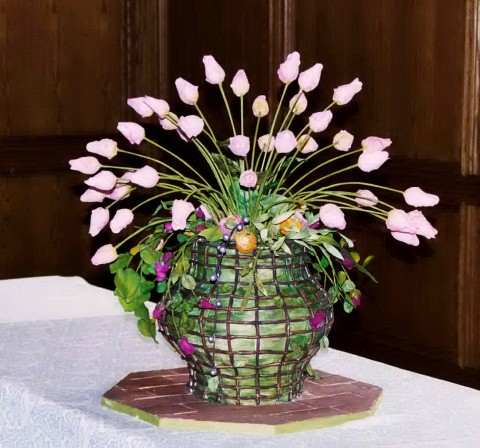 A gorgeous sculpted bamboo vase filled with sugar French tulips, roses on the vine, rannunculus, and fabulous berries.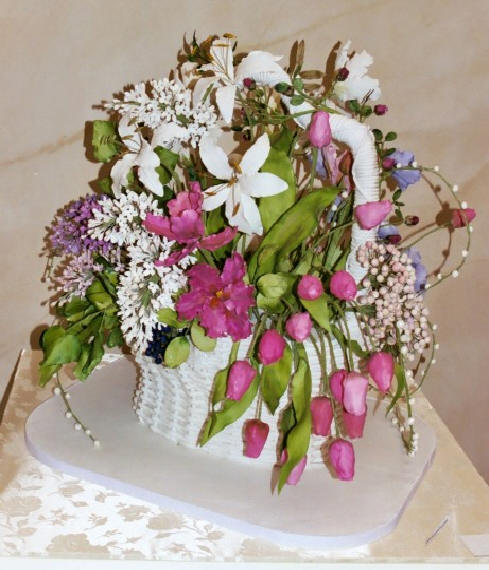 This large basket was created for the Newark Museum for display in their "Fantasy in Frosting" exhibition. A large sculpted cake is decorated with hand woven rolled fondant and filled with a gorgeous collection of sugar flowers.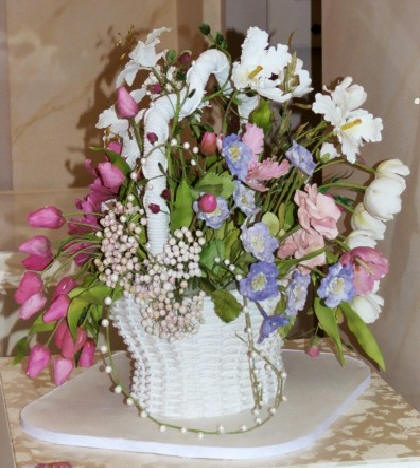 Each side of a basket is unique. Flowers, colors, and textures complement one another however each angle of the cake holds something different. Basket cakes have the unique advantage of truly offering a dimensional interest unlike other designs making them an outstanding choice for any special event or occasion.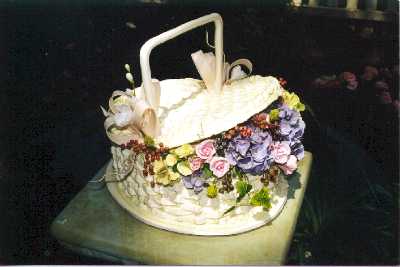 A Nantucket basket filled with berries, roses and hydrangeas.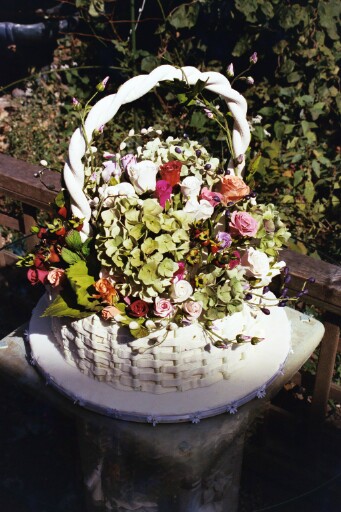 A lovely fall garden basket filled with roses, rose hips, green hydrangea & ivy.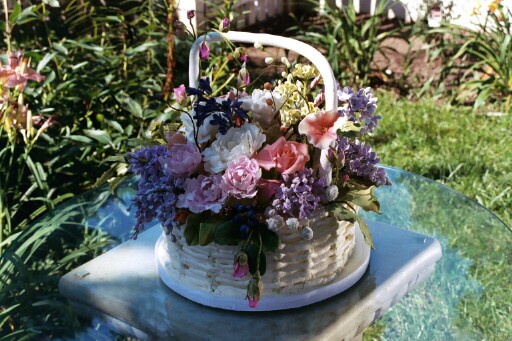 French lilacs pour out of this basket filled with peonies, roses and berries. Pictured below is the very same cake photographed from its opposing side. Every angle holds a new feature in a garden basket cake.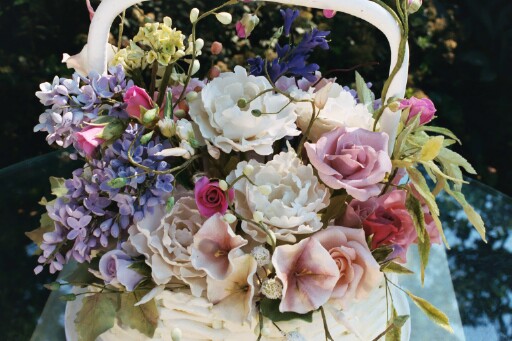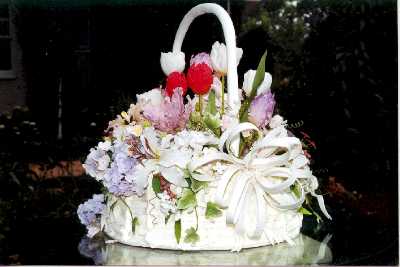 A gorgeous basket filled with lilies, tulips, petunias, hydrangea, roses, and ivy.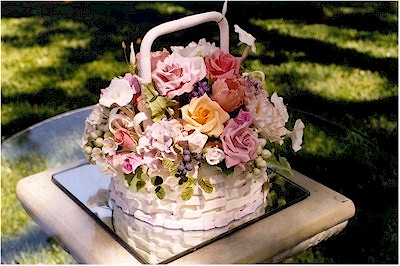 Summer roses, berries, peonies and morning glories create a gorgeous summer basket.
Wheat free cakes, vegan cakes, organic cakes, and eggless cakes are available for my clients with special dietary requirements.
And the winner is....
Wildflowers...for one of America's most beautiful cakes!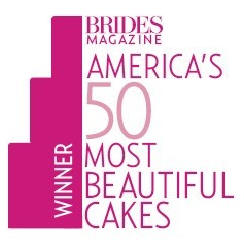 We have a minimum order of $500.00 and at least one month's notice is recommended.
Tastings
Wildflowers does not offer tastings.
Offerings
Wildflowers offers its garden cakes in our luxury traditional recipe as well as in our exclusive vegan, organic, dairy free, gluten free and eggless varieties.
Pricing
Prices for Garden Cakes begin at $15.00 a serving.
Offerings
Wildflowers offers garden cakes using our traditional luxury recipe as well as gluten free, dairy free, vegan, organic, and eggless varieties.
Contact Lori Ann today to order your Wildflowers cake.
A word about quality
Wildflowers cakes are created entirely by Chef Lori Ann Blethen. All consultations are made directly with the Chef and she is responsible for the design, creation, and delivery of your cake.
When you invest in a Wildflowers cake, you are receiving an entirely hand made confection that has been created using only the finest, natural ingredients. Artificial extracts are never used. Fabulous flavors originate from zests, fruits, the finest vanilla, imported chocolates, and simple things like quality flour, butter and sugar.
Sugar flowers are hand sculpted using the Chef's exclusive recipe to ensure that your flowers will withstand heat and humidity. If handled with care, your sugar flowers will remain beautiful for years to come and serve as a sentimental keepsake of your special day.
In today's day and age where everything seems to be produced in volume, it's nice to know that there remains a special enclave where magic is created...one cake at a time.
Garden baskets are these breathtaking creations filled with sugar flowers...creating something exquisite and so very natural looking.