<![if !vml]>

<![endif]>
" Where colors and textures merge into a symphony of flavors."
Special occasions call for something truly unique. Something that captures the mood of the day. The characteristics of the person.
The importance of the event.
Special occasion cakes celebrate special people, special days, and the special events in our lives. Make it truly memorable with a custom designed cake created for you by Wildflowers.
Special occasion cakes
Birthday cakes ~ Anniversary cakes ~ Baby shower cakes ~ Bridal shower cakes
Graduation cakes ~ Groom's cakes ~ Kid's cakes ~ First Holy Communion cakes
Bar Mitzvah cakes ~ Bat Mitzvah cakes
Corporate cakes
Funky, fun, and fabulous collection of designer shoe boxes in a colorful palette adorned with sugar bows, a fabulous sculpted sugar shoe, along with sugar flowers including gerbera daisies and roses.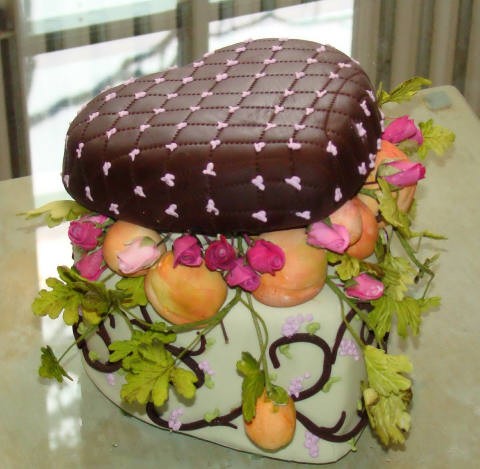 Gorgeous and oh, so French! This chic yet earthy heart shaped box exudes a demure, sophisticated look. This cake is quite petite at only 6", however one can just imagine how gorgeous it would be created in a much larger version. This box is filled with sugar peaches, leaves, and petite wild roses.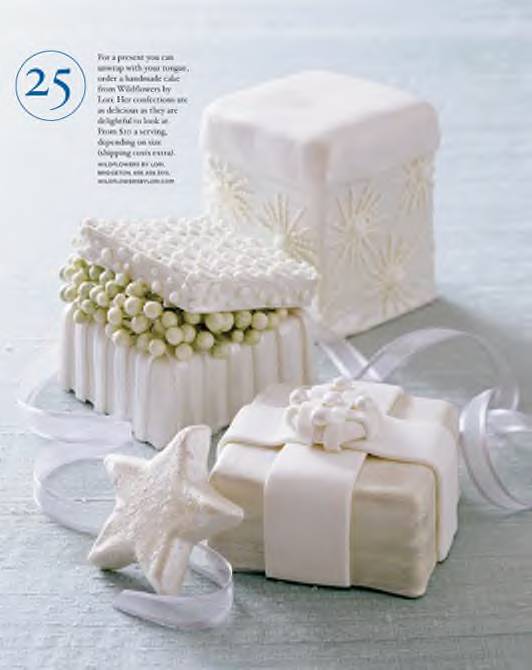 A winter's collection of fabulous gift boxes created for the editors of New Jersey Life magazine as one of their top 25 picks for chic gifts for the holiday season.
A gorgeous collection of fashionable boxes decorated with fanciful colors and exuberant details. Fabulous sugar blossoms in white with pale sage and pink highlights fill the open hat box adorning the the top of the cake. The petite handbag cake was created with a chic chain detail made completely out of sugar.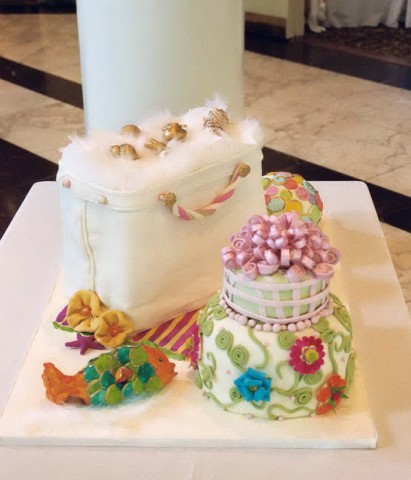 A "Summer is here..." dance party beach theme birthday bash for two sisters was the inspiration for this fanciful creation. The chic beach tote bag cake takes the lead in this vignette. A colorful beach ball cake decorated in a rainbow of brightly colored circles is accompanied by sugar starfish, 'fabric' sugar flowers in fun colors, and the most delightful two tier celebration cake topped with a sugar ribbon ...and escorted by yes...a sugar fish!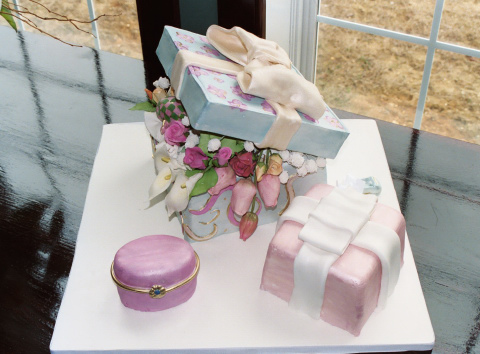 This stunning collection of boxes was created for a very special baby shower. The sugar flowers in the collection include French tulips, roses berries, and calla lilies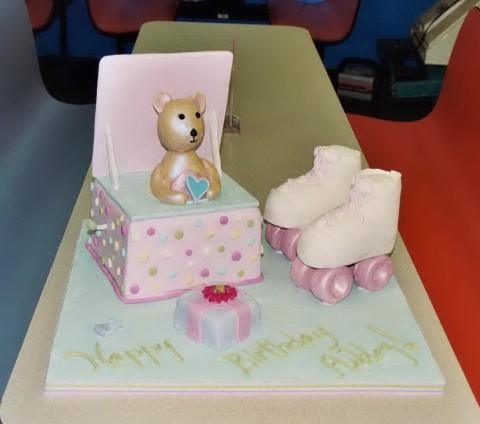 A wonderful little girl celebrated her 4th birthday in style with this whimsical teddy bear jack in the box accompanied by a fabulous pair of roller skates at her special party held at a roller rink. The jack in the box, roller skates and tiny 'present' are made of cake and the decorations created out of sugar.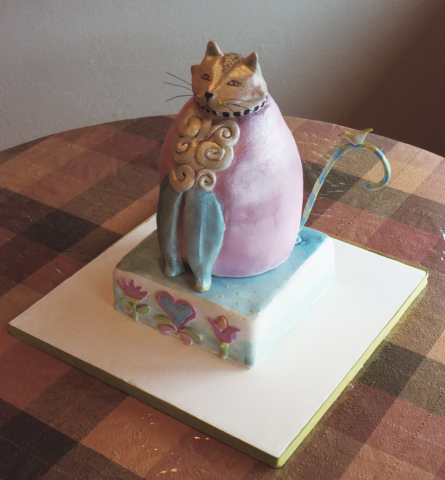 This fun and whimsical cake was created for a surprise baby shower. The theme of the party was 'A cat and a bird...', so what could be more perfect than a folk art cat and bird cake sculpture?
A baby's toy chest is filled with a toy airplane, a baby's blanket, balls, and a heart warming sculpture of the 'Velveteen Rabbit' in celebration of a special boy's first birthday. A tiny tractor created out of sugar completes this vignette of sentimental touches. All pieces were created out of sugar and the colors of the toy chest were inspired by the unique party invitation.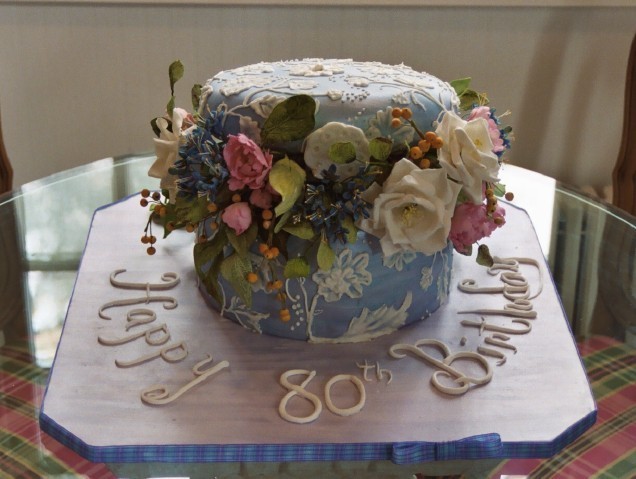 A beautiful Limoges box created for the 80th birthday celebration of a special lady. Filled with sugar peonies, fully opened roses, wild flowers, berries and foliage.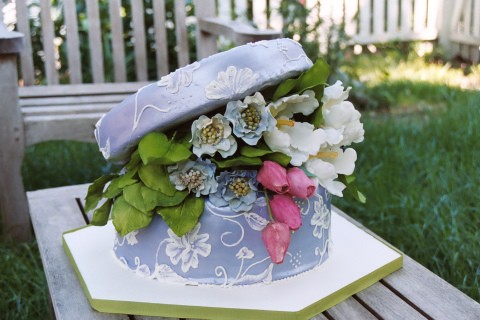 Fashionable and lovely. This China blue porcelain Limoges box was filled with pincushion flowers, white parrot tulips, French tulips, berries, leaves and Calla lilies.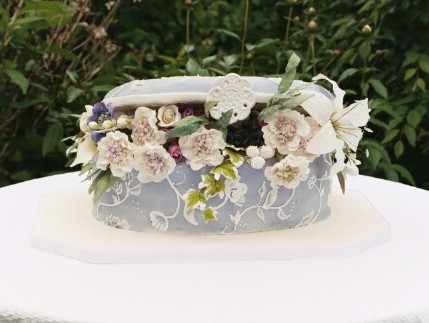 An oval Limoges box cake decorated with gorgeous lilac fondant and a pattern of flowers and vines in royal icing. The cake is filled with pincushion flowers, roses, lilies, ivy and berries for an early summer birthday.
Trés magnifique! The colors of Provence are captured in this exquisite Limoges box cake. Filled with an assortment of French wild flowers hand sculpted out of sugar. The hand painted details bring out the nuances of the vibrant colors of a summer in Provence. Yellow pearlized fondant decorated with a French blue brush embroidery. Simply stunning.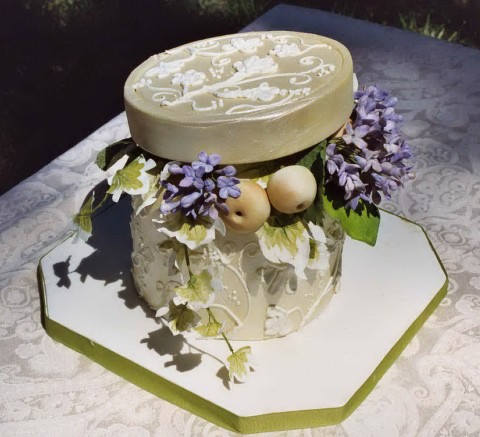 Beautiful things come in small packages. This is a lovely petite box cake filled with sugar lilacs, lady apples and ivy. Soft, pale yellow paired with white brush embroidery create a subtle dimension adding to the simple elegance of this design.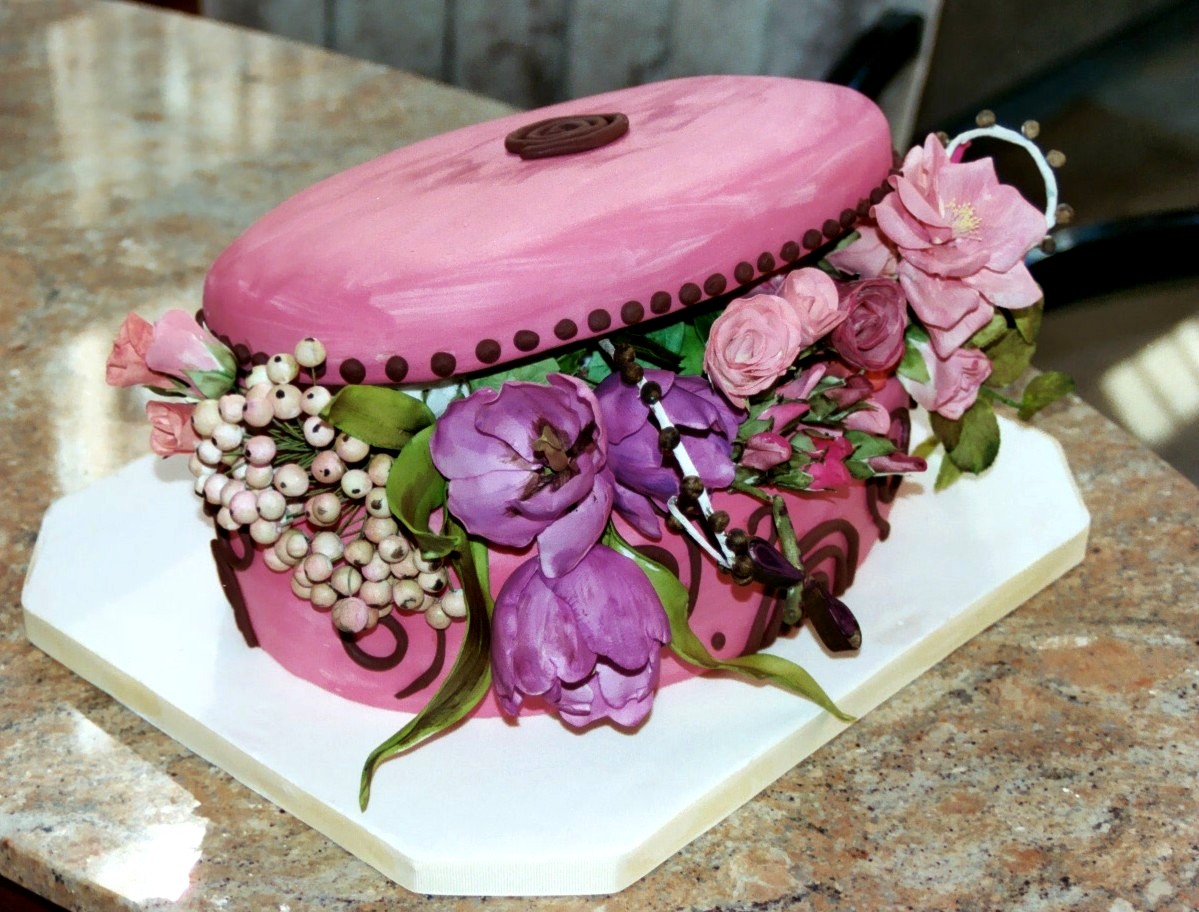 This gorgeous oval box was created for a unique baby shower for Elisabeth Hasselbeck from "The View" and was featured in a televised broadcast of "The Party Planner with David Tutera" on the Discovery Channel.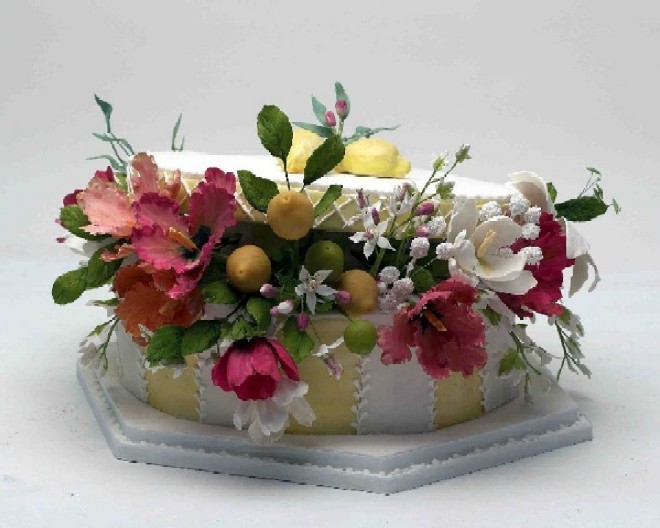 A gorgeous hat box cake filled with sugar parrot tulips, Darwin tulips, ivy, lemon blossoms, and fabulous marzipan lemons and limes on the stem.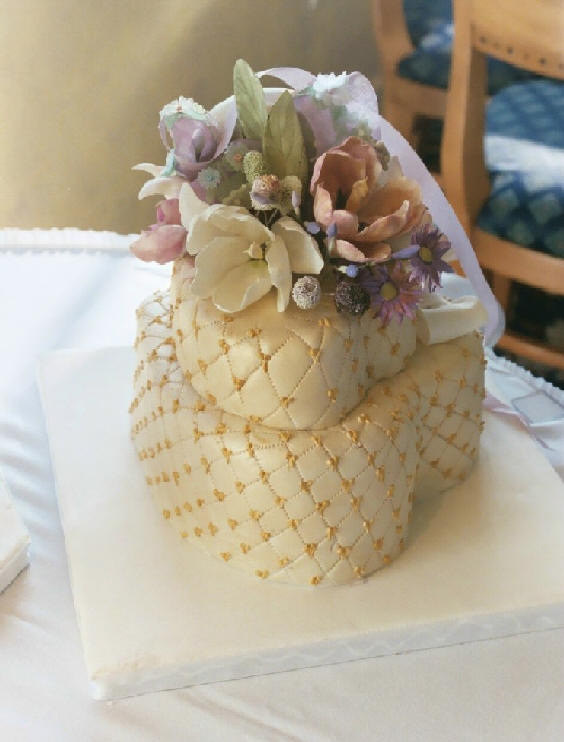 A heart shaped box decorated in a quilted fondant is filled with a collection of sugar flowers. The heart shaped lid sits behind the flowers to create an absolutely soft and stunning presentation.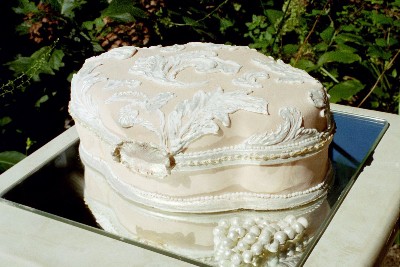 A Limoges box cake in pale peach with royal icing plumes and a strand of edible pearls.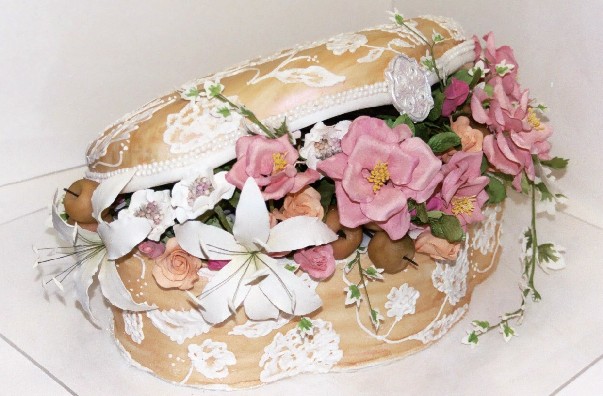 An absolutely stunning summer Limoges Box filled with fully opened sugar roses, marzipan lady apples, Casablanca lilies, pincushion flowers, ivy and rose buds. The cake is colored in 'Georgia Peach' and decorated with brush embroidery.
A black and white striped hat box filled with colorful parrot tulips, roses and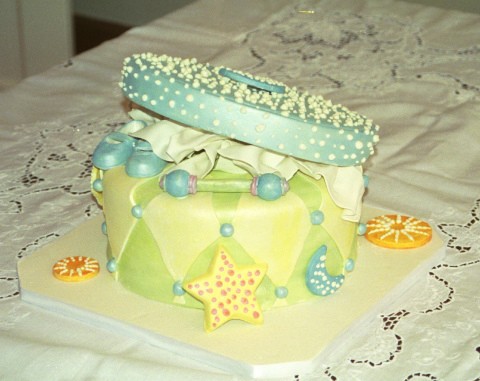 The sun, the moon and the stars for a brand new baby boy. A gift box cake filled with sugar baby shoes, a rattle, and the sun, moon and stars....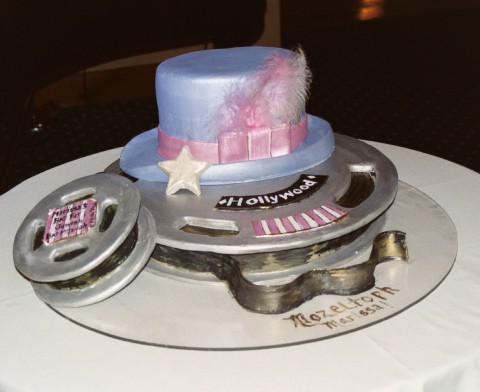 Could there be anything more perfect for a "Hollywood" themed party for a bright, young girl? When dance, nostalgic movies, and happiness prevail, a top hat cake and a pair of cake movie reels are the perfect complement!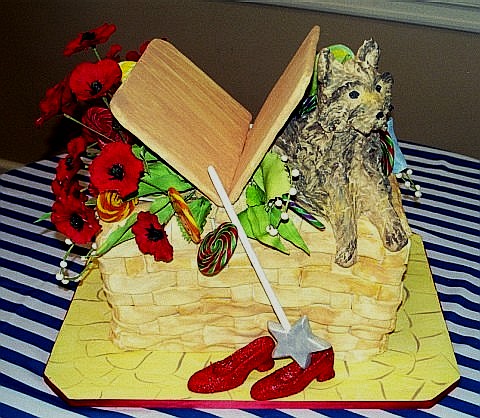 The Wizard of Oz was the theme for a special girl's Sweet 16 birthday bash. This large basket is filled with sugar poppies, lollipops, ruby slippers, a magic wand, and a sugar sculpture of Toto.
Architecture....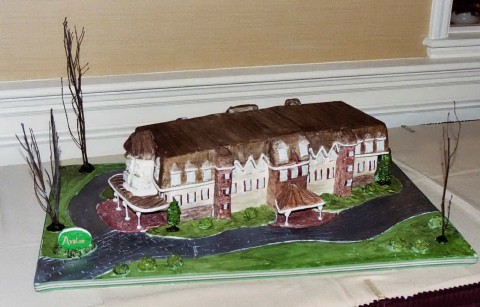 This cake is what is referred to as an 'architectural cake' . This cake is an actual replica created from architectural drawings and photographs of the building while under construction. It was showcased in the grand opening celebration's ribbon cutting ceremony.
Cakes for the guys...
This antique fire truck was created in celebration of the landmark 80th birthday of a special gentleman who had dedicated years of service as a volunteer firefighter.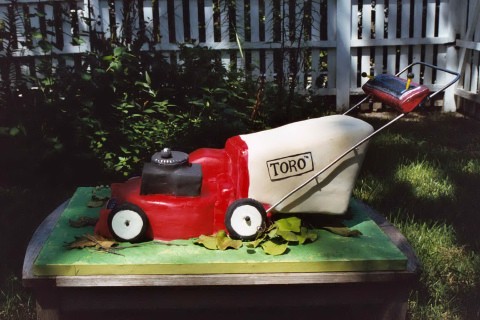 Just when you think you've seen everything...in rolls along a Toro lawnmower cake! This cake was created for a very special gentleman celebrating a landmark birthday.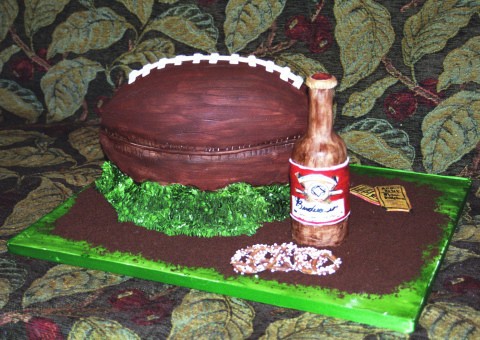 Football and beer? Why not, when it's a special cake for a special fella. Sporting handmade sugar pretzels, tickets to the game and a favorite bottle of beer made out of cake!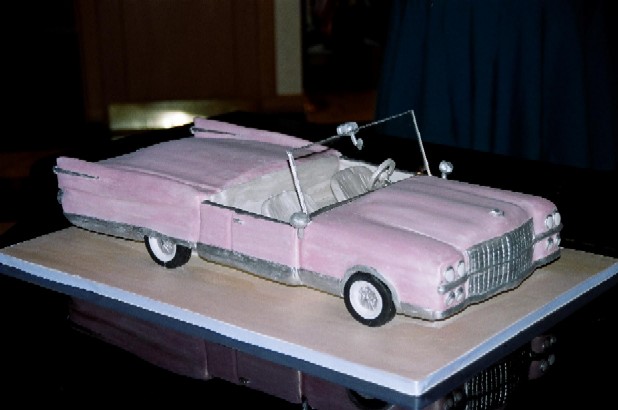 A car enthusiast celebrated a 50th birthday in style with this 1959 Fin Cadillac. This cake served 150 guests at the 50's themed bash.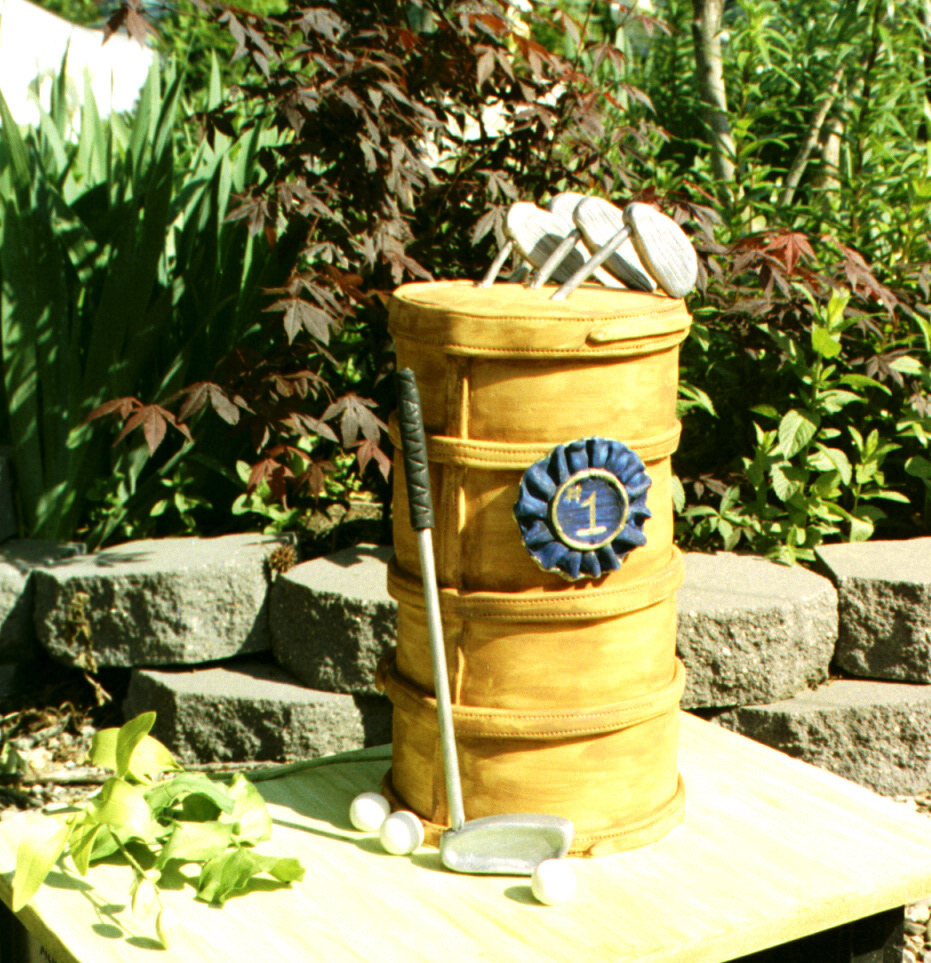 This special birthday cake was created for the golfer. The golf bag cake is filled with clubs and balls made out of sugar and was covered in a leather effect with topstitching details!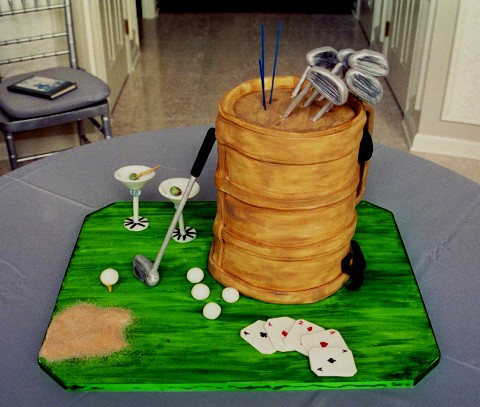 Golf and martinis along with a 9 iron and playing cards for a memorable gentleman's birthday.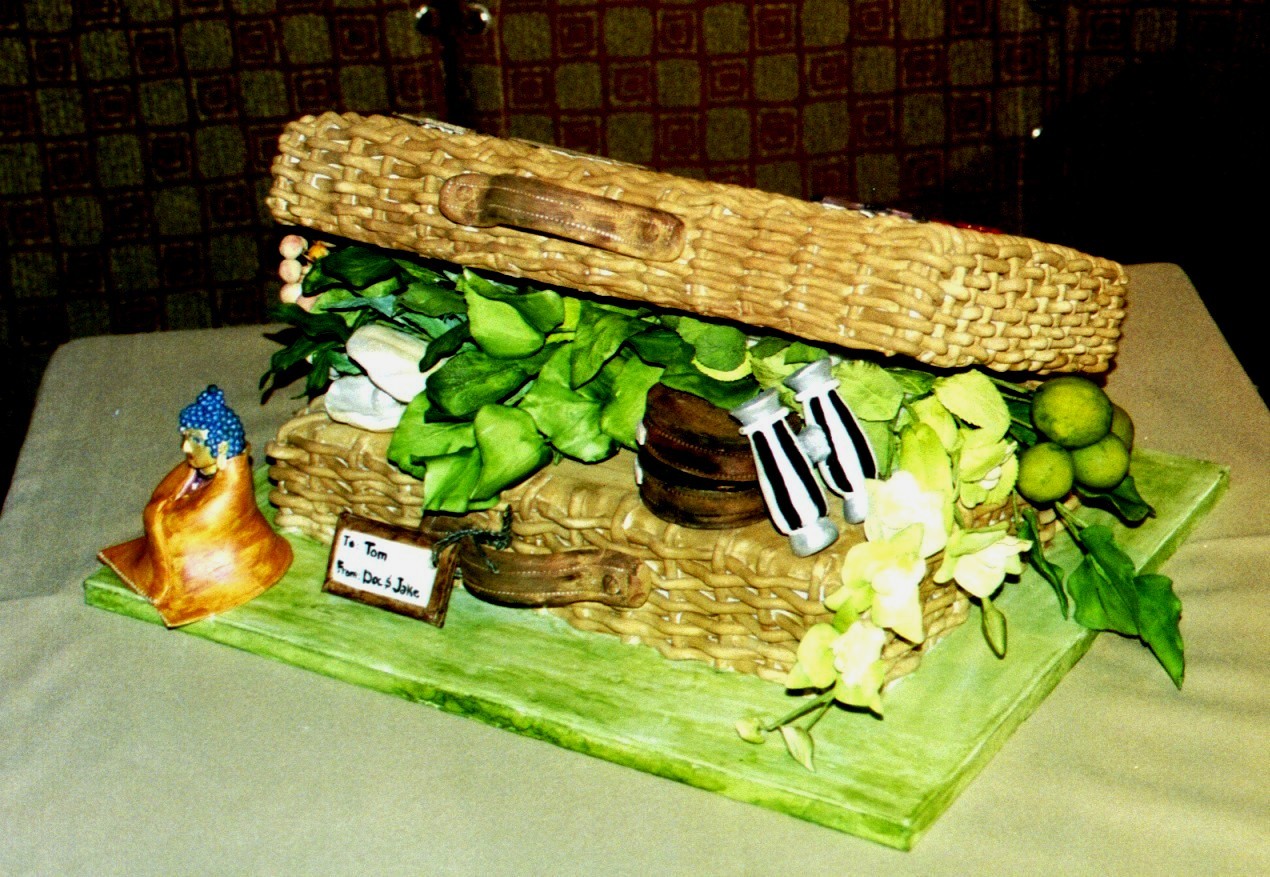 What world traveler wouldn't love this cake? Designed to resemble a woven rattan antique suitcase filled with trinkets from around the world. The decorations are made completely out of sugar and represent important mementos in celebration of a truly special birthday.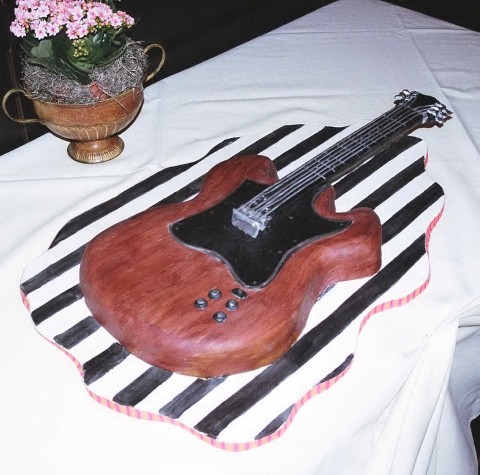 Okay, so the story has it that a certain special birthday boy once played electric guitar in a band when he was in his teens. Now, this is back in the late 70's, so this cake is an actual replica of his original guitar brought to life in cake and sugar!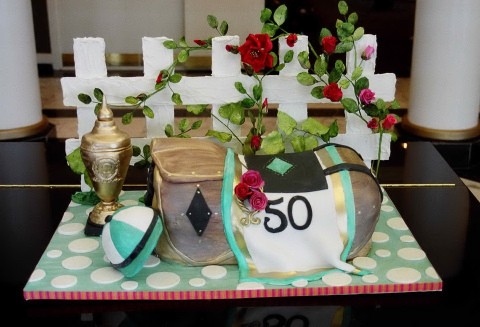 A Day at the Races was the theme for this special 50th birthday celebration and the party included all sorts of Kentucky Derby elements. The horse paddock was created out of sugar and decorated with a sugar rose vine. A sugar replica of the derby trophy, a jockey's cap, and a saddle complete this cake vignette.
Motorcycle Cakes
Wildflowers creates motorcycle cakes that actually replicate your favorite bike. The motorcycle cakes are three dimensional standing motorcycles created using cake and sugar. Of course there are all sorts of structural components that make this feat of engineering possible, however the majority of the motorcycle cake is edible and more importantly, delicious!
Motorcycle cakes are hand made, individually, by our Chef. She uses photographs of the front, sides, and back of the motorcycle to create the motorcycle cake sculpture. Motorcycle cakes can be customized by using names on license plates, or by sharing sentimental messages on the cake board.
Motorcycle cakes are the perfect choice for anyone who loves their bike. The featured cakes are Harley Davidson Motorcycle cakes, however the Chef can recreate any motorcycle model from any maker. Contact Chef Lori Ann Blethen for details: Lori@Wildflowersbylori.com
Prices start at $13.00 a serving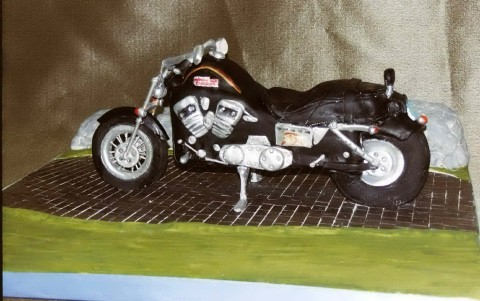 What does one give to the guy with a penchant for his Harley? Why, a Harley Davidson replica of course...!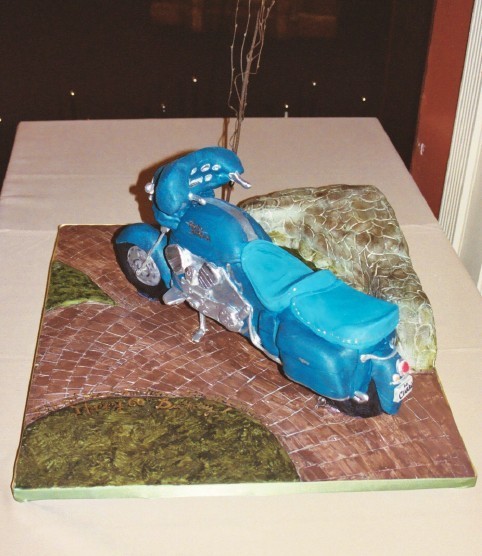 This cake was created in celebration of a gentleman's special birthday. Using photographs of his motorcycle, it was recreated using sugar and cake.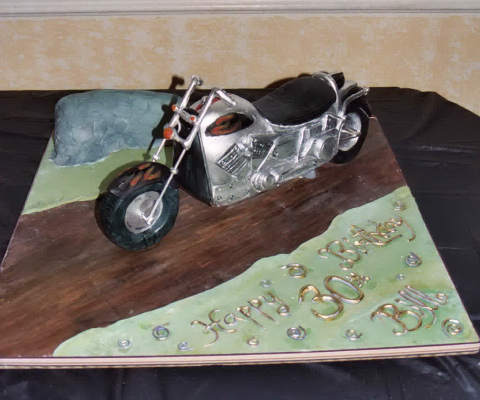 A motorcycle cake for a special guy celebrating his 30th birthday!
Eggless cakes, Vegan cakes, Organic cakes, Dairy free, Wheat free cakes, Gluten free cakes available on request.
And the winner is....
Wildflowers...for one of America's most beautiful cakes!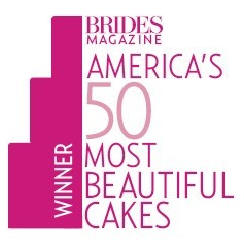 Wildflowers custom designed special occasion cakes
We have a minimum order of $500.00 and at least one month's notice is recommended.
Tastings
Wildflowers does not offer tastings.
Offerings
Traditional luxury cakes
Gluten free cakes
Vegan cakes
Eggless cakes
Dairy free cakes
Pricing
Traditional luxury cakes from $12.00 a serving.
Gluten free cakes from $14.00 a serving.
Vegan cakes from $14.00 a serving.
Eggless cakes from $14.00 a serving.
Dairy free cakes from $14.00 a serving.
Delivery
Wildflowers custom cakes are delivered to the location you specify under the guidance of the Chef to ensure safe handling and proper display. Delivery charges, if any, are determined according to the travel distance.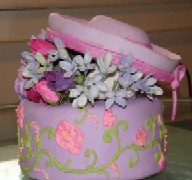 A word about quality
Wildflowers cakes are created entirely by Chef Lori Ann Blethen. All consultations are made directly with the Chef and she is responsible for the design, creation, and delivery of your cake.
When you invest in a Wildflowers special occasion cake, you are receiving an entirely hand made confection that has been created using only the finest, natural ingredients. Artificial extracts are never used. Fabulous flavors originate from zests, fruits, the finest vanilla, imported chocolates, and simple things like quality flour, butter and sugar.
Sugar flowers are hand sculpted using the Chef's exclusive recipe to ensure that your flowers will withstand heat and humidity. If handled with care, your sugar flowers will remain beautiful for years to come and serve as a sentimental keepsake of your special day.
In today's day and age where everything seems to be produced in volume, it's nice to know that there remains a special enclave where magic is created...one cake at a time.