<![if !vml]>
<![endif]>
"Where colors and textures merge into a symphony of flavors"
Sugar flowers are a fabulous creation consisting of an almost porcelain like consistency. Made from a sugar dough known as gumpaste they are edible confections that add such beauty to a cake it is unbelievable. Wildflowers sugar flowers are sculpted and hand painted with sable brushes like fine art and arranged to perfection.
There are many cake decorators and pastry chefs who use flowers that they purchase from factories where they are mass produced in an assembly line. While it would have been far simpler for me to do the same, the factory produced sugar flower simply didn't look beautiful. They didn't have the subtle nuances of a real flower, leaf, or berry. They didn't speak to quality and originality and that is precisely what I wanted to bring to my customers.
So, I embarked upon a journey of perfecting a skill in making my own sugar flowers. Bringing a piece of sugar dough to life, so to speak, is an arduous task because it requires tremendous patience and skill.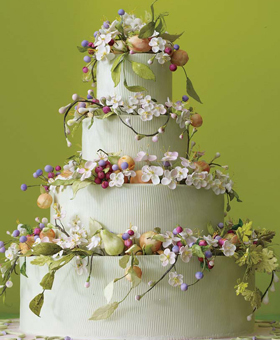 This classic French pattern known as Milles Fleurs was translated by Chef Blethen using apple blossoms, peaches, pears, berries and leaves in sugar. This cake was selected by the editors of Brides magazine as one of the most beautiful cakes in America.
I've studied and worked at perfecting this skill for years and am contacted by pastry chefs the world over with requests to purchase my flowers at any price. I do not sell my flowers to other chefs but have shipped flowers to clients all over the world for their use in decorating their own cakes. I've created cake toppers with tendrils of morning glories, climbing roses, tulips, ivy, lilies...you name it. Ready to place on top of your cake for the most breathtaking presentation.
Sugar flower collections are priced starting at $250 plus shipping and handling and can literally embody any color scheme or collection of flowers you can imagine. The options are virtually as endless as the colors in the rainbow.
I am the designer, pastry chef, and sugar artist and will personally be creating your one of a kind creation every step of the way. It is my pleasure to be of service to you and I thank you in advance for your patronage.
Chef Lori Ann Blethen
Wildflowers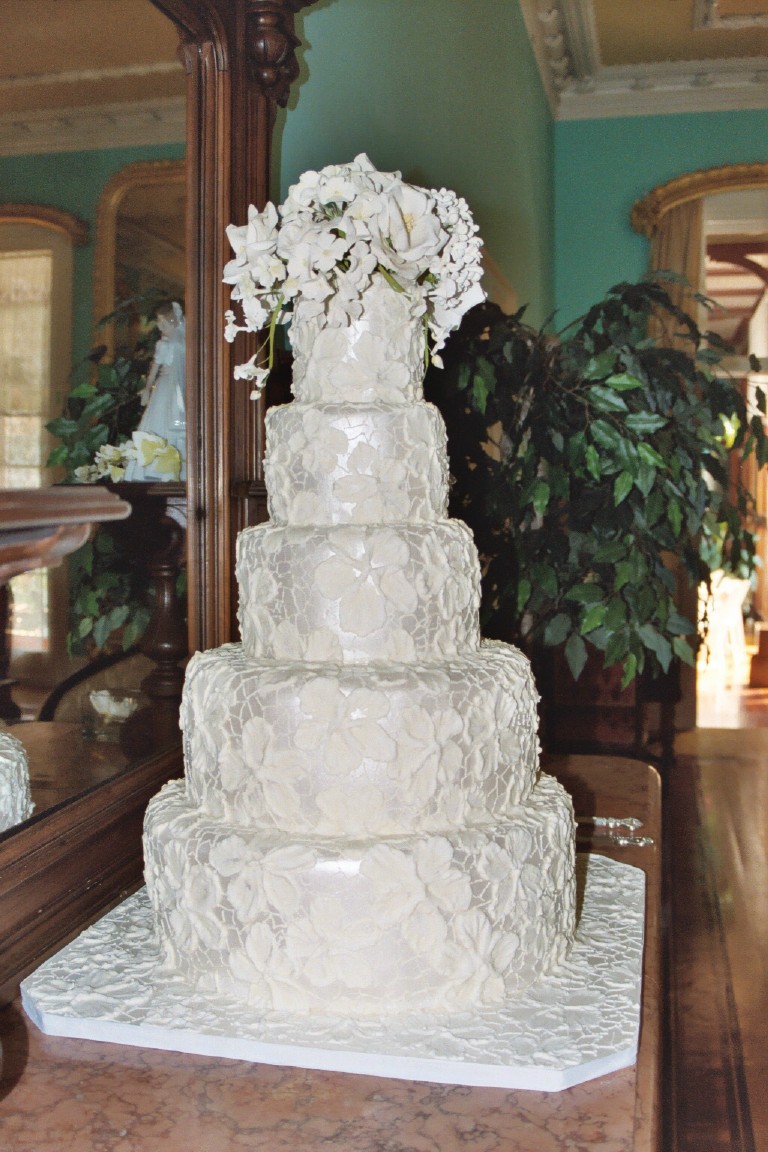 This is a lovely, opulent brush embroidery cake. Now, see how the simplicity of the colors of the topper literally transform the look of the cake. giving it a far more formal appearance.
Pricing
Sugar flower toppers are priced from $250.00 plus shipping and handling. They arrive fully arranged and ready for placement on top of your wedding cake.
You can order specific flowers from Wildflowers as well. Each flower is priced differently and they are hand made individually to order. Please contact Chef Blethen for more information on pricing.
Learn the art
Do you believe that this skill is something that can be mastered by only the select, talented few? Nothing could be further from the truth. Enroll in my professional 6 day course and master the skills necessary to become a sugar artist. Follow this link for details...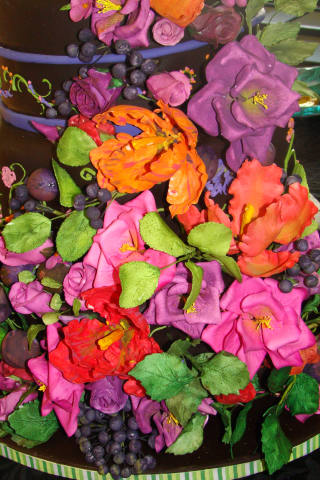 When to order
It is recommended that you order your sugar flowers at least 3 months in advance to ensure availability of the chef. Wildflowers sugar flowers are created on a custom order basis.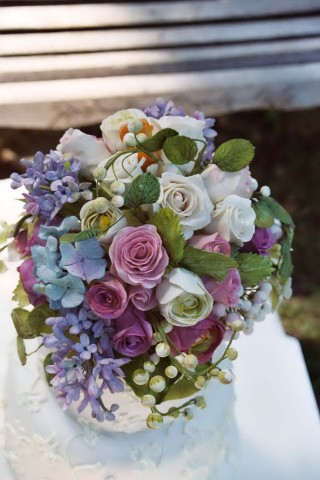 An element as seemingly simple as a sugar topper can literally transform a cake from the ordinary....to the extraordinary.
As the story goes...
The art of sugar flowers is also known as confectionery art and originated in England at the end of the 19th century when it was discovered that many fresh flowers were in fact toxic.
Preparations such as pesticides add to the peril, however many flowers are simply inherently toxic and transfer a natural 'poison' onto the surface of the cake.
In many countries the use of fresh flowers as ornamentation for a cake has been outlawed due to safety concerns, but here in the U.S. it is still widely practiced.. Pesticide treated and inherently toxic flowers shouldn't be used to decorate cakes because it simply isn't safe. Toddlers, the elderly or anyone with compromised health shouldn't be exposed to the toxins.
Sugar art has developed over the past 100 years changing and evolving with the times. As styles change and preferences alter so has cake design. Design trends shape the evolution of style in all things, but some things of simple beauty endure.